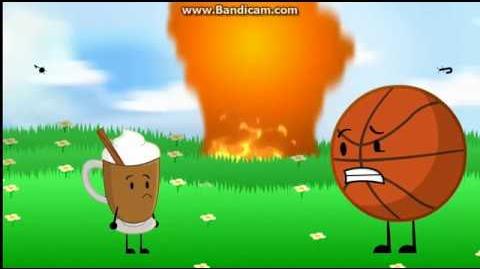 These are the character deaths in Object Madness so far.
Intro
Cherry pushes Nickel into Penny and caused an explosion (as seen in the picture above).
Puffball shoves Puffbull into E.D., with E.D.'s screen getting cracked.
Cup pushes Nickel to Penny, causing an explosion and killing both coins.
In the explanation animation (when Pickaxe says that Nickel and Penny are dead), an explosion kills Nickel and Penny.
Football throws a rock at Cup, possibly killing her.

Total Death Count (so far): 1 (2 if Cup died when Football threw a rock at her)
Trivia
The reason why there is only one official death count is:

It is unknown if Cup died when Football threw a rock at her.
The intro (probably) does not count.
The animation for Pickaxe's explanation when Nickel and Penny died does not count.

In Worthless Change and the thumbnail of the video at the top right of the article may prove that Nickel and Penny's explosion can harm others nearby, but not kill them.

If one looks closely at the video thumbnail, Cherry and Candy Cane's silhouettes are seen in the background.