These are the characters in Object Madness.
Major characters
Minor Characters
Umbrella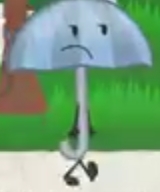 Umbrella's first appearance is in the beginning of Worthless Change.
Bottle Cap
Main article: Bottle Cap
Bottle Cap's so far only appearance is in Worthless Change. He may have died when Nickel and Penny caused an explosion in the bus.
Toothpaste
Toothpaste's first apperance was in a photo talking to nickel